Hillewaere Group becomes exclusive partner for Christie's International Real Estate in Belgium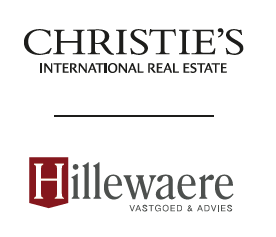 Hillewaere Group becomes an exclusive partner of Christie's International Real Estate in Belgium until 2033
Knokke and Brussels will get their own offices focused on exclusive residential real estate
Luxury real estate segment sales continue to grow despite turbulent economy
Hillewaere Group – led by entrepreneur Roel Druyts – will become the exclusive affiliate of Christie's International Real Estate in Belgium for the next 10 years. This means that Hillewaere – an established player in residential real estate for many years – is the only authorised broker to market the exclusive range of luxury properties on the Belgian market under the Christie's International Real Estate brand. Additionally, Hillewaere gains access to the international network of Christie's International Real Estate. U.S-based Christie's International Real Estate is separately owned but strategically aligned with Christie's, the world leading art and luxury business known for its auction house. ​ This partnership is the next step in the ambitious growth of the specialist in luxury real estate and exclusive insurance following Rothschild & Co acquiring a participating interest in Hillewaere in 2021 via Five Arrows Principal Investments (FAPI) and its nine acquisitions of different insurance offices over the last year.
Hillewaere Group was founded by Roel Druyts in 2002 and has experienced solid growth in recent years, both in real estate and insurance. As a real estate broker focused on upmarket properties, they have 820 properties on sale today, of which 120 properties are marketed at one million euros or higher. Its recent acquisitions have only expanded and further diversified the expertise that addresses both the professional and private needs in a variety of insurance niches. Apart from that, the group is now Belgium's market leader in insuring art and exclusive cars.
A perfect match
The new partnership with Christie's International Real Estate in luxury real estate is the next step in the group's growth strategy. Initial contacts about engaging in a comprehensive collaboration date back to 2020, but it was only last year that talks gained momentum. ​
'"During our initial contacts, our company growth lay elsewhere, as you can see in the recent acquisitions in our insurance arm. But it was quite clear even back then that we were on the same wavelength in our approach to luxury real estate. So we stayed in touch and our talks began in earnest again last year. Our niches, areas of expertise and portfolios complement each other perfectly. They have a wide client base and unique target audience, especially given their close relationship with Christie's auction house. We built our strong reputation and systematically expanded our existing portfolio in the luxury housing market in Belgium over the past few years. This means we have everything they were looking for in terms of expertise, the way we serve buyers and sellers and credibility in the market." Roel Druyts, CEO and founder of Hillewaere Group
Christie's International Real Estate has expanded rapidly over the past 18 months through new partnerships with independent brokerage firms around the world. Recently, the brand has signed on new affiliates in London, Milan, Venice, the Italian, Swiss and French Alps, Malta, Estonia, the Caribbean and Japan. The luxury real estate network has also added branches in top-ranked U.S. markets, including Los Angeles, the San Francisco Bay area, Miami and Chicago. Christie's International Real Estate now operates in nearly 50 countries and territories.
This partnership means that the Hillewaere Group is the only Belgian real estate broker allowed to sell exclusive residential properties under the Christie's International Real Estate brand, which includes any property marketed over one million euros in their portfolio. The partnership also creates international access to the properties for sale in our country, as well as the entire international network of potential buyers across all of those countries. All of these properties will be available for sale in Belgium through Hillewaere, both online and in the physical offices.
"Our focus on luxury real estate, our client-centric approach and our staff's expertise ensures clients know they are in the right place to buy or sell their luxury property with confidence. This is how we have successfully grown our portfolio over the years. This partnership proves our approach is right for us and will also help us further strengthen our position in the Belgian luxury real estate market.'" Bart Van Delm, Managing Director of Hillewaere Real Estate
"Roel and Bart have built an exceptional real estate brokerage focused on relationships, innovation and unmatched service, all values shared by Christie's International Real Estate. We are pleased to have them on board as our exclusive Belgium affiliate, and we look forward to supporting their growth as we continue our expansion throughout Western Europe." Helena de Forton, managing director, head of Europe, Middle East and Africa (EMEA) and Asia-Pacific (APAC) for Christie's International Real Estate ​
Expansion to the Belgian coast and capital
Over the next two years, Hillewaere intends to expand with new offices in Brussels and along Belgium's coast including the popular seaside resort destination of Knokke. In Knokke, Hillewaere Real Estate may enter into a local partnership. In Brussels, Hillewaere Real Estate is looking at the possibility of locating an office within Brussels office of Christie's auction house.
"Today, the coast and Brussels are still largely uncharted territory for us. Our history started with our Flemish growth in the province of Antwerp followed by the other Flemish provinces. So this new partnership, expanding into Brussels and Knokke with our own branches seems a perfectly logical step in Hillewaere's growth. In Brussels, the next logical step is to also serve the French-speaking market, so we will move in the direction of Wallonia.'" Roel Druyts, CEO and founder of Hillewaere Group
Hillewaere Real Estate is well known for luxurious properties, and has a team of staff including eight real estate agents who specialise in exclusive high-end properties valued at one million euros or more. The company states that this requires a specific approach and knowledge. The group also sees the combination of real estate and insurance in-house as a major advantage. Clients can buy a property and then immediately ask their expert about the best insurance to cover their new home and its contents, art, etc.
Hillewaere indicates that the luxury real estate market continues to flourish. 2022 also saw record sales of million-euro properties in our country. In fact, the total of 1,927 property sales was 12 per cent more than in 2021. Inflation accounts for this somewhat, causing some properties to suddenly reach the one million euros mark. Nevertheless, Hillewaere Real Estate also sees a strong increase in its own numbers. For instance, in the first five months of 2023, they had already sold half of the total number of million-euro property sales in 2022.
---
About the Hillewaere Group
Founded by current CEO Roel Druyts in 2002, Hillewaere Group is a group of three service companies: Hillewaere Real Estate, Hillewaere Insurance and Hillewaere Mortgages. Hillewaere Group strives to provide clients with the best advice for acquiring, managing, protecting and furnishing real estate in the most service-oriented and proactive way possible. And it takes advantage of technology to go all out in attaining this goal. The three companies are managed by Hillewaere Holding.
​www.hillewaere.be
Numbers:
- 27 million euros turnover in commissions
- 6 million euros, EBITDA
- 230 employees: 60 real estate branches – 170 insurance branches
- 300 million euros in property transactions per year
About Christie's International Real Estate
Christie's International Real Estate has successfully marketed high-value real estate around the world for more than 30 years. Through its invitation-only Affiliate network spanning nearly 50 countries and territories, Christie's International Real Estate offers incomparable services to a global clientele at the luxury end of the residential property market. For more information, please visit christiesrealestate.com.
Roel Druyts CEO, Hillewaere Groep
Bart Van Delm Managing Director, Hillewaere Real Estate
Hannelore Schmid PR Consultant, Bepublic Group
Leona Mehra Communication, Luchford (for Christie's International Real Estate)